Happy Friday Eve and a happy and healthy new year to my fellow Jew-Jew Bees!
One of my fondest memories of Mom-Mom is me sitting on her toilet, watching in delight as she applied her makeup for the day. Even in her 80's, she had perfect porcelain skin, without a wrinkle. I'd watch her put on her Clinique foundation (even though she didn't need it) and blush, and she topped it all off with a shade of pink lipstick.
And she always, always put some lipstick on me! I felt so dazzling.
Mom-Mom cared how she looked (some call it vain, I'd like to think it was more the era she grew up in), and never left the house without makeup on. She once wouldn't let my mom call an ambulance for her when she was having chest pain until her hair and makeup was done. I kid you not (Mom called anyway).
Even though I'd haul ass to the hospital at the first sign of a heart attack, I most definitely picked up her love of makeup at a young age.
It's come in handy to find products to cover the rashes I get on my face when my lupus is acting up, and acne I get from my medications (fucking prednisone!). Probably the only joy I get from this bullshit of a disease is that it gives me a reason to peruse Sephora and Ulta for the latest and greatest products. I'm in there so often, that I'm quite certain the sales associates have got to wonder, "doesn't this chick have a job?"
NOPE!
While 85% will suffer from some type of skin issue, only 30% of systemic lupus patients present with the
malar rash
(also known as the "butterfly rash") even though it is the most well-known symptom of lupus. In fact, I had a question about the malar rash on my NCLEX exam to get my nursing license (I also had a question about tetralogy of Fallot, my congenital heart defect. Coincidence? I think not), but when it came to having it on my own face before I was diagnosed, lupus was the furthest thing from my mind.
The malar rash can range from what looks like a light flush to itchy, raised, red patches over the bridge of the nose and on the cheeks.
Depending on the level of my disease activity, I too, range from a light flush to itchy, raised, blistery red patches.
You know the old joke...
My face hurts!
Well, when I wake up and say my face hurts, I know it's going to be a bad day.
(That's sunscreen on the tip of my nose in the big picture. True story.)
In the weeks leading up to going out of work on disability, my rash was getting considerably worse as the flare became more severe. I had to conserve my energy for 12+ hour ICU shifts, so the last thing I wanted to do was waste time trying to cover them with makeup. I had finally reached a point where I didn't care.
But, most days I do care. And I know I shouldn't, but the incessant stares and questions ("Marla, is that rash from skiing?") get tiresome after awhile.
Over these past 5 years in dealing with lupus, I have tried dozens upon dozens of foundations and concealers, everything from
CoverGirl
to
MAC.
I can't imagine the amount of money that's been spent. I should buy stock in
Ulta
and
Sephora
!
I've learned by process of elimination that I have a very severe reaction to
bismuth oxychloride,
a chemical compound found in the majority of mineral cosmetics. For the most part, I can read a label and know if a product will affect my skin.
All those chemistry courses in college have finally paid off!
*FYI- Bismuth Oxychloride is found in the original formula of BareMinerals (natural, my ass), but is not in the matte formula. The matte formula is great for oily skin.
Lupus is a tricky little sucker, and what worked for me last winter could now cause a nasty reaction due to changes in my medications, my hormones, or just due to the fact that lupus is a fucking asshole.
That's right, I said it. Lupus is an asshole.
Ahem.
Due to the September Spending Freeze, I have to use what's in my makeup chest, as I don't trust myself to go into Sephora and not buy anything.
There are currently 11 different types of foundation in my vanity, so rest assured, I will survive.
Here are a chosen few that presently work to cover my rashes, yet not cause any reaction. I tried to pick some with higher price points that can be found at MAC, Sephora, and department stores, and less expensive drugstore brands. I've had great results with both ends of the spectrum; a higher price doesn't always mean it's a higher quality product.
A liquid formula that provides light/medium coverage, but is easily buildable. Covers my rashes, except on the most severe days. Has a light matte finish, gives a healthy glow and I never get shiny. I apply it with the
Sephora Collection #75 brush
and then buff it in with the
Sephora Pro Airbrush #55.
Contains no parabens, sulfates, synthetic fragrances, GMO's, & Triclosan.
(I wore this on Labor Day, and 3 people complimented my skin!)
A cheaper alternative to the Urban Decay Naked Skin. Similar in formulation, but doesn't quite have the same coverage or staying power. I apply it in the same way and set it with the Revlon Nearly Naked pressed powder.
Kat Von D may be a complete tool bag, but I must give her credit where credit is due. She makes a damn good foundation. Or at least the people in the lab who slapped her name on the bottle do. This foundation covers flawlessly, doesn't transfer, lasts all day and is paraben free. It makes my rashes, pimples, under eye circles, and areas of hyper pigmentation disappear. If only it could make Kat Von D disappear.
I apply it with my Sephora #75 brush then use a makeup sponge dampened with
MAC Fix +
to blend.
Formula provides a natural matte finish with medium to full buildable coverage. I use this on my worst days and apply with the
MAC #187 Duo Fibre brush
($42, worth every penny) and use in a stippling motion. This allows you to use less product and not look like a giant cakeface. Covers everything, lasts the entire day and doesn't transfer. I finish with a quick spritz of MAC Fix +.
A cheaper alternative to the MAC Studio. Product is a primer, foundation and concealer in 1. Provides medium/full coverage, but tends to dry quickly and can look cakey if not applied fast enough. I apply using the same technique as the MAC Studio Fix Fluid, but concentrate on smaller areas of my face at a time. Doesn't get shiny and lasts all day.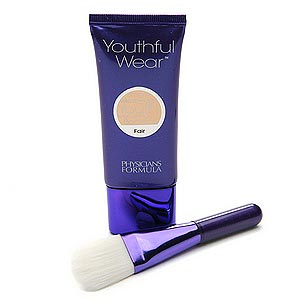 A lighter formula that gives a light/medium coverage. I use this when my rash is not very prominent. Gives a velvet matte finish without looking cakey. I apply with my fingers and set with a translucent powder. Paraben and gluten free.
As I said, these specific items currently work for me. Ask me in January, and no doubt I will be using different products. What works for me may not work for you whether you have lupus, another condition that affects the skin or you are perfectly healthy.
My dream job would be to work with a cosmetic/chemical company and make a line of makeup and skin care products specifically for men and women suffering with lupus or other skin conditions. (you hear that, MAC Cosmetics? Let's you and I collaborate with Lady Gaga, who spoke to Larry King about her family history of lupus!) I'd use natural, non-irritating ingredients and find a way to keep costs affordable. Yes, it's a pipe dream and will probably never happen.
But, if you know any chemists or anyone who works for MAC, by all means, send them my way!
Happy buffing!
Love you all.